Une Bonne Mort conference brings together people caring for the living, the dying, and the dead
A place for emotional expression and connection
At Live Oak AV, we were honored to have been part of Une Bonne Mort, an event hosted by A Sacred Passing Death Midwifery. As experts in audio-visual services for events, we were thrilled to collaborate with A Sacred Passing ensuring a seamless and impactful experience for all attendees.
A Sacred Passing Death Midwifery is a non-profit organization dedicated to guiding and assisting individuals toward a more conscious dying experience while honoring individual autonomy. Their mission focuses on education, care, and advocacy to dismantle oppressive systems related to death and dying. 
Une Bonne Mort, a conference organized by A Sacred Passing, brought together people caring for the living, the dying, and the dead. The goal of the event was to create a sense of togetherness, facilitate learning, provide a space for emotional expression, foster connections, and introduce new ideas.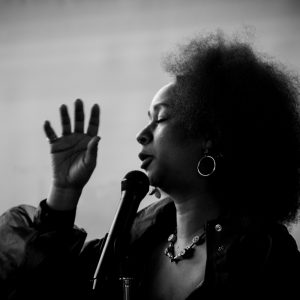 AV issues, solved through collaboration
We worked with Lashanna Williams, Death Doula, and Executive Director of the organization, and her team to plan for the event. One of our challenges was the logistics of audio-visual setup in a warehouse venue. The speakers, lighting, and Wi-Fi posed initial difficulties. Conducting a thorough site visit enabled us to fully grasp the unique challenges of the venue and devise tailored solutions that met A Sacred Passing' needs.
Stress-free tech makes it all worth it 
"We decided on Live Oak because of their customer service. The site visit, the flexibility, the desire to help make it work – it felt like we were all a part of a team and that was lovely," said Lashanna.
When asked what the best part of working with Live Oak was, Lashanna said, "SO MUCH LESS STRESS!!!"
By entrusting Live Oak AV with all technical aspects, they could shift their focus to other crucial elements of the event. As you would expect, a death and dying conference takes extreme planning, care, and empathy to host. Ensuring a flawless operation of the AV means that the hosts are able to be in-the-moment making the conference that much more meaningful. 
"We are a small org and there are just a few of us making magic. It was beyond helpful to know someone else was holding down the tech."
Is hiring an AV company worth it?
Lashanna's message to other small organizations is, "y'all reading this, do yourself a favor. Live Oak is easy to work with and extremely accommodating." 
We are grateful to A Sacred Passing for choosing Live Oak AV as their trusted partner. Together, we continue to amplify our community's events that foster education, inclusivity, and support within our community.
Photography credits: Shannon of Slobbered Lense, A Sacred Passing Death Midwifery