5 Lessons Learned from A Year of Virtual Auctions
(Pictured above: Co-hosts Yolanda and Linsday for the "Team Read Rocks!" virtual fundraiser held in our studio.)
Even as more hybrid and in-person events return, virtual events—including high-level fundraising auctions—have a presence that's likely here to stay. 
Because virtual auctions invite non-local attendees, you have an opportunity to scale your auctions like never before. We've seen record-breaking fundraisers this year, and so we're sharing five lessons learned from a year of virtual auctions.  
1. Location Matters, Even Virtually
Your hosting location matters, even when it's a virtual event. Will you be broadcasting from a home office, your nonprofit organization site, or looking for a live streaming studio? We prepared a live stream studio in our own office early on in 2020 (Live Oak Live Stream), and have seen success for both live conferencing and pre-recorded presentations on our professional stage. 
2. Auction Software Makes or Breaks the Experience
Here are some of the bid software features we've found that will enhance your virtual experience: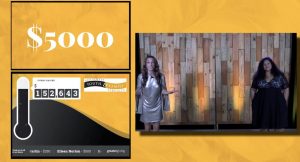 Fundraising Thermometer
Once advancement in online bidding software is the fundraising thermometer that shows donations in real-time. Ensure that your bidding software has a thermometer widget that can be opened in a separate window so your AV team can add it to the virtual event. Some software even lets you customize the thermometer with your event logo and colors.
Live Items in Groups
In virtual events, live auction items are often sold in groups instead of individually.  Ensure your bidding software has the ability to group live auction items on one screen.  This helps your auctioneer or emcee keep track of the items being auctioned in a particular group.
Ability to Show or Hide Donor Names or Amounts 
Because of the high visibility of donations in a virtual auction, you may want the ability to turn donor names or amounts on or off.  For example, you may want to show both as live items are auctioned to increase competition but turn off donation amounts as names are scrolling across the fundraising thermometer.    
Software
While Greater Giving has risen in popularity because of these features, Give Lively and GiveSmart are also great choices for auction software from a broadcast production standpoint. Use caution when considering software that promises to be a "one-stop shop" for both bidding and live streaming services.
3. Platform Impacts Interaction
How you share your event with your audience does make a difference—both in quality and interaction. There are pros and cons to consider with each platform. Remo boasts the ability to scale attendee engagement and sell sponsorships but does come with a heftier price tag. Zoom, while it doesn't handle audio as well, was the highest-growing brand in 2020. YouTube is the gold standard of video sharing, however the interactivity level is limited to the chat feature compared to other conferencing services which can include voice. By taking into account your goals and event style, we'll be able to consult with you about the best platform for your fundraiser. 
4. Auction Items Need Preparation + Intention 
You'll want to prepare auction items in advance and consider the kind of event you're hosting. 
Chat Games
Who doesn't like to win stuff online? Many of the auctioneers we work with play chat games with virtual audiences. They may give away gift certificates or swag to the person who posts a certain icon, phrase, or trivia answer in the chat.
Virtual VIP Experience
This style of auction item has become very popular during the COVID-19 pandemic. Do you know a chef who would do a virtual cooking demonstration?  What about a local author who would do a VIP private book reading? Not only do these types of packages benefit the nonprofit and provide a cool experience to item winners but it gives the VIP a way to connect with current and prospective customers. 
Meal Delivery Packages
We've seen these types of items rise in popularity due to the fact that we are all yearning for unique food experiences.  Whether it's a gift package from a local, commercial meal delivery service or restaurant or a home-cooked meal by a donor, consider a food theme that matches the mission of your organization. 
Travel Experiences with Long Expiration Dates
Travel packages still make popular items with a little modification. Instead of pairing hotel stay with theater tickets, consider an AirBnB in a unique location paired with an outdoor sport like kayaking or tubing. Ensure all package components have long expiration dates for maximum flexibility and appeal. 
5. Engage All Attendees
Whether it's a fundraising thermometer that inspires increased donations or an atmosphere of making an impact on the world, all attendees want to be thoroughly engaged in your event. We're here to brainstorm all levels of your event to make it the powerful fundraising achievement you're looking for. 
What were some of your lessons learned from virtual events in 2020?
We'd love to hear what worked and what didn't. Tell us on Instagram at @LiveOakAV.
Bring us in early to help. 
We've navigated virtual auctions and seen breakthroughs amidst all the breakout sessions. Let us know when you're ready to amplify your event.